Clean parts facilitate truck maintenance
BUPI CLEANER® cleaning system increases efficiency in truck service: The networked economy needs a high operational readiness of trucks, trailers and refrigeration units. That is why truck and bus manufacturer Scania operates service branches on Europe's motorways, among others in Puch/-Urstein near Salzburg. There, the cleaning of vehicle parts is carried out as a repair preparation in a BUPI CLEANER® Powertec Basic 4 purchased via MAP PAMMINGER GMBH. The robust one-bath parts cleaning system of the Austrian manufacturer BUPI Golser Maschinenbau GmbH ensures short pit stops with environmentally friendly, fast cleaning.
Scania was founded in 1891 and is one of the best-known manufacturers of heavy trucks. In Austria, the company holds around 20% of the market share. For the inspection, maintenance and repair of its products, the Volkswagen subsidiary maintains a dense network of workshops along the European motorways.
On the Tauern motorway in Puch/-Urstein near Salzburg, a crossroads of transcontinental transport routes in the middle of Austria, Scania Austria opened a maintenance base for trucks, buses and industrial engines with eight drive-through lanes including a wash bay and testing facility as well as a paint shop on 1 March 2021. "Not only Scania trucks and buses pass through our workshop, but also trailers and refrigeration units from various manufacturers," explains workshop manager Hermann Kittl. "Our 29 employees, including seven apprentices, perform 23,000 working hours annually."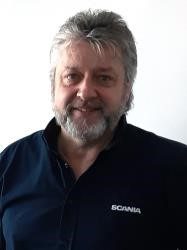 Handling the machine is very easy and the cleaning process in the closed system provides a pleasant working environment. The fast cleaning process helps us to keep the truck pit stops short

Hermann Kittl, Workshop Manager Scania Puch-/Urstein
Repair requirement divider unit
The metal and plastic parts to be machined from the engine, transmission or chassis of heavy vehicles naturally have considerable contamination. As a prerequisite for repair, they must be freed from these contaminants.
The Scania service centre is therefore equipped with a parts cleaning system purchased from MAP PAMMINGER GMBH. This is a BUPI CLEANER® Powertec Basic 4 from the Austrian manufacturer BUPI Golser Maschinenbau GmbH. In this 1-bath system, components up to 1,060 x 1,060 x 700 mm (l x w x h) and up to 900 kg can be cleaned. For this purpose, an aqueous cleaning solution is applied to the parts rotating in a cleaning basket from fixed spray registers.
Reliable cleaning system
"The robustness and reliability of the parts cleaning systems from BUPI Golser had already been proven by the predecessor machine at our former location," reports Hermann Kittl. "It provided us with loyal service for 22 years." After a general overhaul at the manufacturer, this machine will prove itself for many more years at another user. This reflects the longevity and thus also the sustainability aspect of the BUPI CLEANER® cleaning systems.
The Scania workshop was completely designed by the architect, including space allocation in the wet area. "The machine can be operated directly in one corner of the room without any distance, as all maintenance-relevant facilities are arranged on one side," explains Gerald Leeb, Managing Partner of MAP PAMMINGER GMBH. "These include the cleaning agent tank and pump as well as the oil separator and the control cabinet."
The easy-to-use weekly control programme of the BUPI CLEANER® Powertec Basic 4 ensures that the system is completely switched off outside operating hours. Together with the appropriate cleaning chemicals from Wigol, which are also supplied by MAP PAMMINGER GMBH, this ensures environmentally friendly operation and low operating costs.
The feed trolley, which is part of the system, makes it easier to transport the parts to be cleaned to and from the machine. The cleaning cycle takes about ten minutes. "Handling the machine is very easy and the cleaning process in the closed system provides a pleasant working environment," confirms Hermann Kittl. "The fast cleaning process helps us to keep the truck pit stops short."